NVA
badtrooper
flare
Ted-
COMMNDER, NVA, FIELD PHONE HQ SIDE
Airborneshar
COMMNDER, NVA, FIELD PHONE HQ SIDE
Haley
Jessica
Kerri
DJ
Clint
Joy
Immediasres
Billdozer-
FIELD PHONE CANAL SIDE
Ohperia-
RPG NVA
brent
Crazywolf
crazyliz
brent+1
AMERICAN (woodland)
Bob W. (thor)
OVERALL COMMANDER. US FORCES
Lero
EcomBoonie
HoldenV
smokescreen
Monty117
Pinkmeetwo
Djdarkjordan
Djdarkjordans friend
Ed
Xm107
johnson
AMERICAN (Od green)
Arka
Fireman(if he is coming)
GENERATOR ATTACK TEAM
ngel
Eric
GENERATOR ATTACK TEAM, THERMITE GRENADE
cain
jdizzle
goodbusiness
AMERICAN (tigerstripe)
Wolverine
POW RESCUE TEAM
Geist
POW RESCUE TEAM
POWs
alafaya
alafaya+1
If I missed anyone let me know, I went through all the threads and made this list.
YOU MUST SPECIFY YOUR JOB DUTY (ENGINEER, RPG, RIFLEMAN, RADIO TEAM, PRISON GUARD, POW, FLARE TEAM LOOK AT TEAM JOBS BELOW ON BOTTOM OF PAGE[/size])[/color]
.[/color][/size]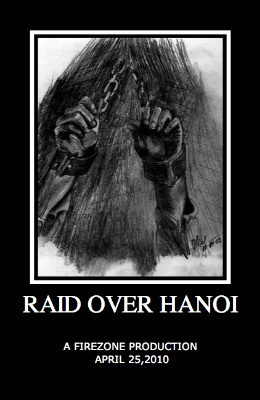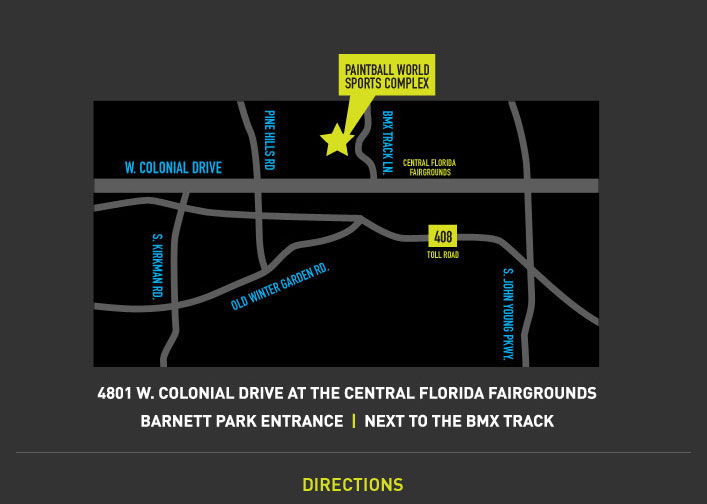 WHERE? paintball world sports complex, on colonial hwy orlando
WHEN? sunday april 25th, 1800 (6pm)
BRIEFING?1730 (530 PM)
PRICE? $15.00
UNIFORM
NVA BLACK PANTS AND SHIRTS
US FORCES PREF OD GREEN----WOODLAND, ACU,AND MARPAT ONLY IF YOU DONT HAVE A CHOICE
US POW'S GREY OR MIX OF GREY AND JEANS, or PAJAMAS OF ANY COLOR
CHRONO 450FPS MAX
KILL RAG MANDATORY. KILL LIGHT MANDATORY
. TORCHES HIGHLY RECCOMENDED. NIGHT VISION DEVICES HIGHLY RECOMNEDED FOR BOTH SIDES. THIS FIELD IS LIGHTED WITH BRIGHT LIGHTS, BUT SINCE WE WILL PLAY INTO THE NIGHT AND THERE WILL BE PERIODIC BLACK OUTS OF HANOY DURING THE NIGHT GAME ESPECIALLY DURING THE TIME WHEN THE S.O.G. GROUP ATTACKS THE COMPLEX. ALSO, ONE OF SOGS OBJECTIVES IS TO DISABLE THE GENERATOR AND THEREFORE HAVE A TACTICAL ADVANTAGE.
BACKGROUND STORY
Operation soy tay was a rescue mission conducted in North Vietnam during the Vietnam War by United States Special Operations Forces and other elements of the U.S. Military.
On November 21, 1970, a joint United States Air Force/United States Army force commanded by Air Force Brig. Gen. LeRoy J. Manor and Army Colonel Arthur D. "Bull" Simons landed 56 U.S. Army Special Forces soldiers by helicopter in the Son Tay prison camp located only 23 miles (37 km) west of Hanoi, North Vietnam. The mission's objective was the recovery of some 70 American prisoners of war thought to be held at the camp, situated in an area where 12,000 North Vietnamese troops were stationed within 5 miles (8.0 km).The mission failed when it was found during the raid that all the prisoners had been previously moved to another camp.
The specially-selected raiders extensively trained and rehearsed the operation at Eglin Air Force Base, Florida, while planning and intelligence gathering continued from May 25 to November 20, 1970. Despite the absence of prisoners, the raid was executed with a high degree of success,incurring only two minor casualties and the loss of two aircraft, one of which had been part of the plan from the start.Criticism of intelligence failures to determine that the camp was empty, both public and within the administration of President Richard M. Nixon, led to a major reorganization of the United States intelligence community a year later.
now this is where we come in to rewrite history, and see if SOG is capable of actually rescuing the american hostages from the NVA.
AMERICAN OBJECTIVES
1. DISABLE THE POWER GENERATOR TO THE PRISON COMPLEX WITH A THERMITE GRENADE,AFTER LANDING. THIS IN TURN WILL SHUT OFF THE LIGHTS IN THE GAME AREA(STADIUM) AND MOVE THE GAME INTO COMPLETE DARKNESS. GENERATOR INTEL WILL BE POSTED SOON.
2. EGRESS TO THE JAIL. RELEASE THE AMERICAN POWS.
3. DIVERGE THE POWS AND AMERICAN TROOPS TO THE LZ ON THE NORTH SIDE OF THE FIELD.
NVA OBJECTIVES
1. HOLD THE PRISONERS IN THE JAIL. KEEP THEM A L I V E.
2. PROTECT THE GENERATOR TO THE PRISON COMPLEX AND PREVENT IT FROM BEING BLOWN UP BY THERMITE GRENADE.
3. IN CASE THE PRISONERS DO MAKE IT OUT, YOUR ORDERS ARE TO ELIMINATE THEM AND THIEIR RESCUERS.

SPAWN RULES - A 4 PERSON "PRISON SPAWN" WHERE EVERY PLAYER GOES TO THE OTHER TEAMS DETENTION. FOR AMERICAN - THE HANOI JAIL. FOR VIET - THE LZ ON OTHER SIDE OF CANAL.
GAME WILL BE HELD IN A SMALL PERIMETER AREA, ABOUT THE SIZE OF WHAT A REAL PRISON COMLEX SHOULD BE, SO YOU WILL PROBABLY WANT TO BRING A PISTOL AND ALSO A CQB WEAPON. HOWEVR SNIPERS WILL BE USEFUL FROM HIGH ELEVATIONS IN THE FIELD.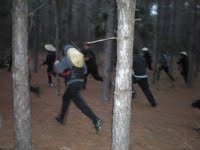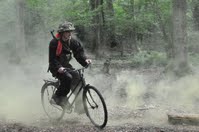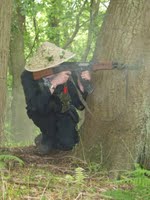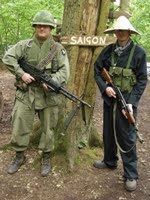 AMERICAN PRISONER EXTRACTION TEAM

AMERICAN

AMERICAN(SOG)

NVA PRISON GUARD
NVA PERIMETER GUARD

POWS
shooting competition will be held in "LZ" area across the prison complex.
items to be won for each team will be placed on a table and are as followed:
USA (SOG)
your team can aquire the following items in the
shooting and knife throwing competition
on the LZ infront of prison complex before start of game. there will be sniper category, pistol, aeg and knife throwing. items to be won for each team will be placed on a table and are as followed:
nvg's
strobe ligths
intel map for prisoner location and generator location
flares
flash bangs
RPG's
NVA
search lights
field telephone
flash bangs
RPG's
we are delegating
TEAMS
, you must let me know where you want to be posted guys. . post below your requests below I need to know who wants to be what and where
rpg team
2 person per side
pow team
2-3 person
field telephone communication team
2 person NVA side
flare team
1 person per side
prisoner guard detail
at least 3 person NVA side
engineer team (USING THERMITE GRENADE TO DISABLE THE GENERATOR
) 3 person
AMERICAN
side
5:00-5:30
breifing
6:00-7:30
shooting and knife throwing competition for usable items in the game and speed ball.
7:45-9:15
(sunset) raid on prison complex begins
9:30-11:00
retaliatory raid on SOG base (city hall field next to the speedball)
--------------------------------------------------------------------------------------------------------------------