Dear Firezone members.
my country is currently under attack for protecting its own borders and attacking a "peaceful" humanitaran aid supply ship. this is one of the biggest lies our news media has come up with. I am sickened by the state of media here and in europe and wrote this so you all know the truth. this ship was a provocation and not a real "humanitarian aid" since gaza border is open for land supply. only reason israel doesn't let any ships in is because the hamas has been smuggling weapons and bombs with ships from iran and lebanon. this provocation is the brain child of arduan, turkeys extreme muslim president, who happens to be chavez, ahmenijad, and assads best friend.
keep in mind, Israel is the only real democracy in the middle east, in the middle of dark middle age style countries, with tyrannical regimes and no human rights israel stands as a lighthouse of freedom and liberalism, it is truly americas "bumper" in the east.
PLEASE FORWARD THIS EMAIL TO ANYONE YOU KNOW. THE TRUTH HAS TO BE KNOWN. ENOUGH LIES BY THE MUSLIM MEDIA, CRESCENT NEWS NETWORK AND THE LIBERAL PRESS.
This is a picture of ali haibar, taken by turkish TV, right before he boarded the MAVI MARMARA ship on its way to gaza. Ali is a muslim "PEACE ACTIVIST"
He was quoted on turkish tv with 100 other "peace activists" that thier wish was to die a "shaid" on their way to the holy land. Ali got his wish and was shot dead by an israli seal after stabbing the seal. so did 8 others.
...and Israel is the one being internationally condemned for protecting its borders and waterways, instead of turkey.
cancel your trip to turkey - its the new Iran. let any turkish person living in the states know what their country is about to stand for in western eyes.
if a ship full of al quiada and hamas activists would try to enter the port of miami I think the US coast guard would not board it with paintball guns but will sink in with cannon fire.
it is strange twilight world we live in where everything is opposite than what it should be like.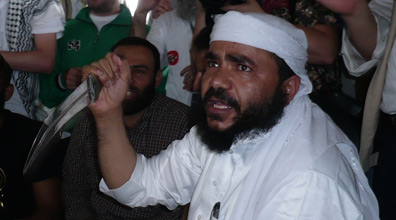 this is the same media that puts american navy seals on trial for punching an al quaida operative in the lip.
some "peace" activity by the "peaceful muslims". this is a muslim version of a pleasure cruise to the holyland.
https://www.youtube.com/watch?v=JaiMjAULWn0
and the hard facts are : THIS WAS AN AL QUAIDA 100 MEMBER UNIT SET UP ON THE ROOF OF THE SHIP, SPLIT INTO 20 PERSON "CRACK" TEAMS SETTING AMBUSH FOR THE SEALS WITH, KNIVES, METAL BARS,ELECRIC DISCS
TO DISMEMBER ARMS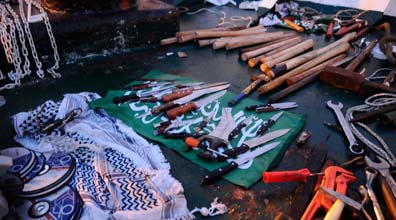 same mentality, here in LA. a lone highschool kid that god knows would have prob been dead if it wasnt to LA police. these are your "american" freedom lover muslim version